Finding a wedding dress for your body type is no easy task. With so many dress options to choose from it can be hard to narrow down which silhouette or style best suits your shape and size and make it your own personal style. Because for any part of your figure you wish to flaunt or conceal, it's totally feasible to imagine and create a unique design solution that makes your wedding dress dreams come true. Whether you're hoping to show off your curves or draw attention to your neckline, we've found the most flattering wedding dresses for every body type.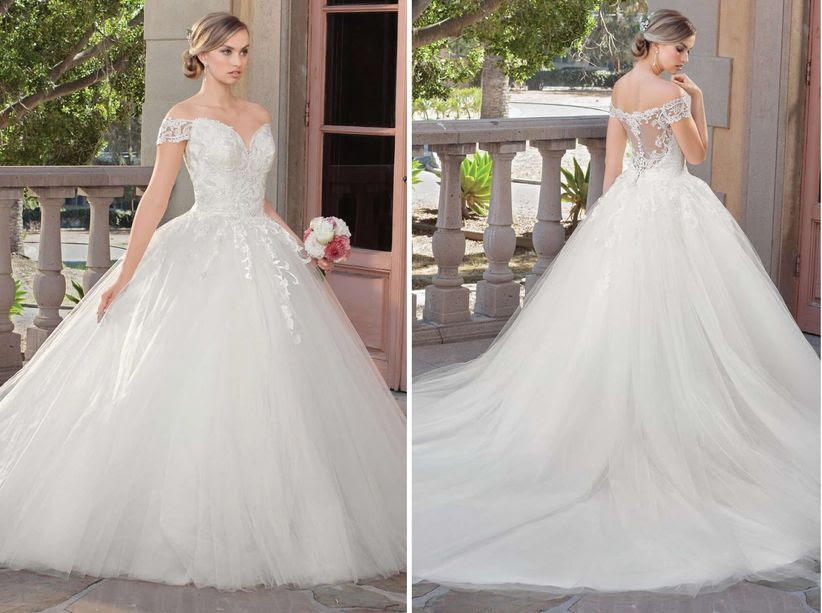 Body Type: Pear
Suggested Wedding Dress Silhouette: Ball Gown
Look for a wedding dress that draws attention to your waist while also highlighting your lower half. A bodice that shapes and defines your midsection and a skirt that flares from the hips and thighs will not only make you feel like a princess, but will also create a wow-worthy entrance.
Personalize it! If you're worried a ball gown is too traditional or formal for your style, opt for adding sleeves to your dress for a more relaxed and romantic look. An off-the-shoulder lace sleeve is an easy customization to enhance any bridal style.
Body Type: Hourglass
Suggested Wedding Dress Silhouette: Mermaid
Show off your curves with a flirty and feminine wedding dress style. A fitted bodice that flares at or below the knee will accentuate your waist and maintain the balanced look of your figure. This wedding dress style evokes an ultra-sexy vibe by bringing attention to your curves in a subtle and flattering way.
Personalize it! Adding embellishments, such as beading or crystals, is a fun way to draw attention to your amazing curves. Especially if they are sewn in a design that leads from the bodice down to the flare of your skirt.
Body Type: Apple
Suggested Wedding Dress Silhouette: A-Line
Find a dress that is narrow at the top and flares out at the waist. This creates a slendering "A" shape that will help elongate your torso. The A-line flare isn't as full as a ball gown's skirt, but still flatters your lower half, making it the ideal wedding dress for this body type.
Personalize it! Draw the eyes upward by customizing your neckline or bodice with lace detailing. You can easily accessorize the neckline with illusion lace or by adding some appliqués on the bodice for an eye-catching appearance.
Body Type: Straight
Suggested Wedding Dress Silhouette: Sheath
Straight body types have a sleek figure—a sheath silhouette will flatter your natural shape by hugging your body in all the right places. This style will show off a straight figure in a chic and sophisticated way, making it the perfect wedding dress for this body type.
Personalize it! If you want to add the illusion of curves without adding bulk, opt for a belted sash to emphasize your curves and create a waist. Whether it be accessorized with crystal embellishments or just a simple ribbon, a sash can totally transform your bridal look.
Body Type: Inverted Triangle
Suggested Wedding Dress Silhouette: Trumpet
With broader shoulders you'll want to opt for a wedding dress that balances your silhouette by bringing attention to your hips. Like a mermaid gown, although a tad more subtle, a trumpet wedding dress narrows at the hips and legs, allowing you to really show off your lower body. You may also want to try a deep V neckline, which can also help balance your shoulders with your lower body.
Personalize it! Back detailing is a great way to add a touch of personalization and romance to a trumpet gown. Since most eyes will be locked on your statement-making train, you can draw eyes upward by adding buttons or feminine lace detailing.